Danny Katz (born 1960s) is a Canadian-born, Jewish Australian columnist and author who writes for The Age and the Sydney Morning Herald.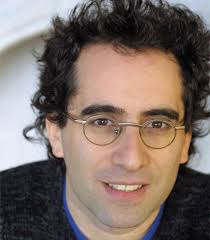 When asked how he got the idea for
Little Lunch
, he said this.
From our kids when they were at primary school. Every day they came home and told us stories about funny stuff that happened during playlunch - about a game of Kiss Chaseys.  Or how someone lost their lunchbox.  Or when someone found a possum's head in the sandpit.  Little stories, tiny stories, but to kids, these are great Shakespearian sagas packed into fifteen minutes of recess.   Sometimes so surreal - possum heads in sandpits - you couldn't make them up if you tried.  So I stole them.
Other Works
Edit
His column is also syndicated in The West Australian. He is the Modern Guru in the Good Weekend (Sydney Morning Herald) magazine. He is also known as the author of the award winning children's book series, "Little Lunch", published by Black Dog Books and features illustrations by Mitch Vane, which has been adapted into television series Little Lunch.
He hates pavlova.
He is canadian.